Don't be afraid of color.
Color is a fantastic way to bring some brightness and fun into a room. There are many colors and patterns available today so bring your open mind when you shop. The beauty of bringing in a color or fun pattern into a room with an area rug is that if you want to change it up, it is easy to do, just roll it up and move it to another spot. It will instantly change the look and feel of the room.
Do know how to care for your rug
Read the tag! This will tell you a lot about what the rug needs for care. Be sure to do this before you purchase it if at all possible. Many types of fibers need to be cleaned by a professional only. This may influence your decision on where to place your rug. Placing an expensive rug that must be cleaned in a shop in a high traffic area, may lead to quick soiling, so choose your fibers wisely.
Do extend your rugs under furniture and place in high traffic areas. If you have chosen your fibers wisely for your area, use them to your advantage. They will help extend the life of the surface underneath.
Do get a high-quality rug pad. We offer a variety of rug pad styles to suit your needs and budget. A quality rug pad will provide a soiled foundation for your rug and extend the life of your rug.
Do vacuum your rug regularly. By vacuuming at least once a week it will help remove dry soil which will slice the fibers of your rug, this will give it a permanent fuzzy appearance.
Don't wear shoes on your rug. By keeping your shoes off in your home, you will help keep all that dirt, grime, grease and other nasties off your flooring. This will help keep your home looking great.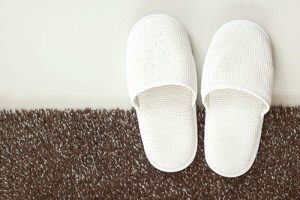 Do rotate your rugs. By regularly rotating your rugs, you help extend the life of your rugs by keeping the wear even. This helps your rugs look much nicer and evenly worn.
Do have a professional cleaning at least once every 12 months. If you contact a high-quality professional to clean your rugs, it will help extend their life. Wool carpet has scales on it that are meant to hide the dirt. Think of them like an open upside-down umbrella. They will capture the dirt and hide it well, but even with regular vacuuming, dirt can become trapped. A professional cleaning will help flush that out and keep your rug fresh and clean.
Don't scrub stains! This is very common to panic and scrub at a stain. This will shred your fibers and cause permanent damage. Blot with a white towel, use our spot cleaner and blot again. If you can't get it up, call us right away. We may be able to get the stain out at our facility.
Do enjoy your rugs! They are meant to enjoy. They bring fun to a room. Maybe the contain a memory of a trip where you purchased it. What ever the reason, just simply enjoy it!
From Davis to El Dorado Hills, Folsom, Granite Bay, Lincoln and all points in between. We are here to help keep your home looking beautiful! Be sure to check out our before and after gallery to see our work
Call us today to book! (916) 348-7018