If you have area rugs, whether they are synthetic rugs from your local department store or that amazing, hand-knotted rug you inherited or found on that special trip, you want them to always look their best. Let us here at The Specialists help you keep them looking great! Here are some tips to help you keep them looking their absolute best.  We serve Davis, El Dorado Hills, Elk Grove, Folsom, Granite Bay, Lincoln, Sacramento and all points in between!
Rotate your rugs. This is super easy to do. By rotating the rug(s) you will help prevent wear and fading in the same spots that you may be walking on constantly.
Move your furniture. By occasionally moving your furniture, you help prevent centralized wear spots.
Vacuuming your rug. It needs to be done on a consistent basis. Wool carpet in particular has scales and those scales is where dry soil will get distributed. Regular vacuuming will help release the dry and soil and remove it, helping it to look its best. Click here to read about why dry soil removal is crucial to your rugs long life.
Remove your shoes! This is a big one. Have you ever thought about what is out there that you walk on? Here is a little experiment for you to try. When you get home, remove your shoes and try washing the bottom of them off with a damp white cloth. What do you see? That and germs (invisible to your eyes) would be all over your rugs.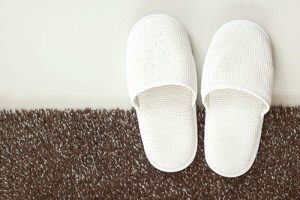 These few simple steps can help your rugs looking their best.
Of course, if you have any spills, be sure to use our cleaner and blot, blot, blot!  Check out this informative article we have on using caution with stains.
Don't forget to call us for your annual cleanings at 916-348-7018. We are here to help you keep your rugs looking great.
From Davis to El Dorado Hills, Folsom, Granite Bay, Lincoln and all points in between. We are here to keep you informed and keep your rugs looking their best!  Be sure to check out our before and after gallery to see our work.
Call us today to book your cleaning! (916) 348-7018