Integrity, honesty and respect for your home and family is what you should expect from a service company.  That is what you will get from The Specialists.
Out of respect for you and your home and in order to keep germs to an absolute minimum, our vehicles and equipment are wiped down and thoroughly cleaned daily.  We also wear fresh shoe covers when we enter your home.  This is something that we have always done to respect and protect your home and your family. This, of course, is in addition to us using our all-natural cleaning solutions to keep your home, family, pets and loved safe and clean.  Our products are all-natural which are also good for our environment.  When we deliver rugs to your home, we will help you lay them out and follow the same guidelines of shoe covers and respect for your home and time.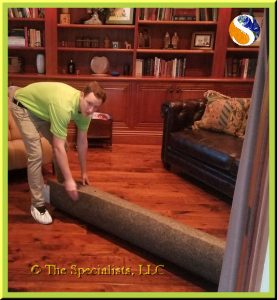 We are confident in our ability to provide you with the best and most knowledgeable service out there.  We are continually educating ourselves on the latest techniques as well as taking regular training and refresher courses.  Our equipment is regularly maintained to provide the best service possible.
Integrity.  Merriam-Webster's dictionary defines it as "adherence to a code of especially moral or artistic values".  We here at The Specialists hold ourselves to a very high standard.  What does that mean for you and your Sacramento area home?
Availability and honesty.  We are here to help. Whether it is on the phone or in your home, we work diligently to provide prompt service.   If it is something we can't or are not comfortable doing, we will be honest with you.  If you have a problem, we will come out and do the work again.
Customer service.  If you look at our reviews you will see 5 stars all over.  We work hard to provide you with 5-star service.
It all starts when you book your appointment.  You and our scheduler will select a day and time.  We offer a 2-hour arrival window.  Often, we are right on time, if not early.  We also will call you when we are on the way, so you are not left to wonder when we will be there.  We here at The Specialists know your time is valuable and we always want to be respectful of your time.   You will also receive an email with the confirmation of your appointment day and 2-hour arrival window.
The business day before your carpet, rug, tile, stone or upholstery cleaning in Sacramento or surrounding area, we will give you a friendly reminder call.  Don't worry, if you can't answer, we will leave you a message.
The day of your cleaning, we will call you when we are on the way.  We update you throughout the day as well, in case our specialist hit traffic or some other unforeseen circumstance.  Although rare, it does occasionally happen and we want to be in communication with you so you are in the know about what is going on, so you can keep your day moving as well.
After the work is done, we will call you within a few days to follow up.  It is a brief 5 question survey that won't take long at all.
To experience this for yourself, call us today to reserve your spot. (916) 348-7018