Have you ever vacuumed your rug or carpet to only find that it has suddenly gotten a few pop-up strands of fiber?  Don't worry, that is what is known as 'Sprouting' and it is actually quite common and while it can be slightly irritating, it is not a reason for alarm.  A simple way to remove these sprouts is to simply trim the sprout to the height of the pile of your rug, Do not just pull them out!  This will cause your beautiful rugs to have bald spots. And while bald can be beautiful for people, it is not something you want for your Oriental rug.   If you are in doubt, call us, we can help.  We are happy to advise you or pick up your rug to help it look its best.
Another handy tip is to be sure that your beloved furry family member is treating your rug right as well.  If they are scratching at your beautiful rug, it can cause pulls that need to be immediately repaired.
As you can see, the major difference between a sprout and a pull is that sprouting happens naturally over time and normal wear from vacuuming or even just walking on the fibers. Where as a pull is often caused by pet scratching or other un natural pulling on the fibers, such as heavy furniture being pushed around, etc.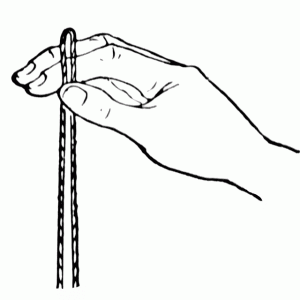 Here at The Specialists, we have a tried and true way of cleaning your rugs. We service from El Dorado Hills to Granite Bay, Rocklin, Sacramento and more!   Click here to see our in depth process.
Inspection- we inspect your rug to determine the type of fiber and origin if it is a fine rug.
Dusting- We then air dust your rug to get the dry soil(s) and particulates out.  Check out this video to see air dusting in action.
Wash- Then we wash your rug, using the best and up to date techniques to help keep your rug(s) looking their absolute best.
Rinse- We rinse your rug(s) to remove all excess dirt and cleaning solutions
Dry- Then we hang dry your rugs have them dry without creasing or shrinking.
Finishing- Once your rug is dry, we will comb it with specialty groomers. This includes hand combing your fringes, checking for sprouting and piling of the fibers and any knotting that may have occurred.
Inspection & Delivery: We will once again exam your Oriental rug to make sure we have performed at our best.  We check for sprouting an any other issues that may have arose.
We go everywhere in the Sacramento area to help keep your Oriental rugs looking their best.  Because we know every rug is unique and there are hundreds of regions that your rug could come from, we are continually educating ourselves on rugs knowledge and the latest techniques.  This helps us be the most experienced with any type of fine rugs.
Be to call us today at (916) 348-7018 to schedule your rug cleaning.  Remember we go to Sacramento, El Dorado Hills to Rocklin, Granite Bay, Davis, and MORE!